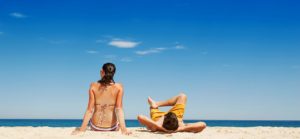 Paid time off ("PTO") may be used for vacation, sick, medical appointment, or personal time.
Medical appointments that cannot be scheduled outside of work hours should be made at lunch time, early in the morning, or near the end of the day. Full-time employees are eligible for PTO according to the following guidelines:
90 days-1 year employees earn 1.5 hours per pay period of PTO
1 year+ employees earn 14 days (112 hours) of PTO available for use January 1st of each year
PTO for part-time and temporary employees[/title][vc_column_text]Part-time employees:
Part-time employees may be entitled to PTO and will be provided with information (including information on rates or accrual and disposition upon termination of employment) individually regarding such PTO at their time of hire.
Temporary employees:
Temporary employees are not entitled to PTO.PTO Explained
PTO Explained
The PTO year operates on a calendar-year basis. Full-time eligible employees accrue PTO on a bi-weekly basis in accordance with the foregoing chart. During their first year of employment, full-time eligible employees begin to accrue 1.5 hours of PTO per pay period only after completing 90 days of employment.
During the second year of employment, all employees will receive 112 hours (14 days) of PTO on January 1st of that year. Employees whose second year begins in the middle of the year will receive pro-rated PTO time.
For example, an employee starts October 1, 2013, and completes one year of employment October 1, 2014. On January 1, 2015, the employee will receive 112 hours of PTO for the 2015 year. The employee will receive prorated PTO time for 2014. During 2014, the employee would have earned 1.5 hours of PTO time biweekly January 1, 2014-October 1, 2014 or approximately 30 hours of PTO. The employee would receive 28 hours of prorated PTO from October 1, 2014 –December 31, 2014 (112/12 = 9.33 x 3 = 27.99).
Although PTO accrues during paid leaves of absence, PTO does not accrue during leaves without pay. Full-time employees may not carry over unused but accrued PTO to the following year.
Employees who do not use their PTO time during the calendar year will lose any accumulated PTO at the end of the year. Employees are encouraged to take their PTO time during the year for vacation.
All employees who quit or are terminated from employment will forfeit any accumulated PTO.
Full-time employees may Not borrow in advance against un-accrued PTO.
Full-time employees must submit PTO requests to their supervisors at least two weeks in advance when reasonably practicable. PTO requests for more than two business days should be submitted two months (60 days) in advance. Should circumstances compel a change in PTO plans, reasonable notice must be submitted to supervisors. Approval for PTO is dependent upon a variety of factors, including adequate coverage and staffing needs and the duration of the PTO. All employees must find coverage for the days they will be out of the office. On your PTO request form, you must designate who will be assuming your duties while you are absent. When making PTO requests please view the calendar and be aware of other employees who are already marked out for those dates. This is especially important during holidays.[/vc_column_text][title]PTO Considerations [/title][vc_column_text]Salaried employees' PTO considerations:
Salaried employees taking less than a full day off need not record the time off or use paid time off for the absence. This privilege should be used sparingly. Consideration should be given for the number of hours the employee will be out of the office. The privilege is not intended to be used for gaining an extra half-day of vacation. Rather, the privilege is intended to provide freedom to salaried employees to take time to go to the bank, doctor's office, post office etc… on occasion without using PTO time.
Any salaried employee taking a day off for a personal appointment, sickness, or vacation is required to use a full day of paid time off.
Employees' salaries may be docked if the employee exceeds the paid time off allotment.
Attorney PTO considerations:
Associate Attorneys 1 year employment requirement for PTO accrual is waived. Associate Attorneys will receive 112 hours of PTO during the first year of employment. However, the PTO will be prorated. For example, an attorney starting on September 1, 2014, would receive 37.33 hours of PTO for the remainder of the 2014 year.
Associate Attorneys are expected to work a minimum of 40 hours per week. Attorneys should be in the office by 7:45 a.m. each day as we often meet with clients starting at 8:00 a.m. Attorneys are expected to work until at least 5:00 p.m. Attorneys will often be required to stay late or work on weekends when work demands it. Attorneys should plan to take lunch between 12:00-1:30 p.m.
Any Associate Attorney leaving or arriving at work for a personal appointment or lunch should place the time on their calendar as soon as possible so that the staff will know not to schedule appointments for the attorney during that time. Attorneys should include travel time on their calendar, so that staff will be able to properly schedule appointments.
Attorneys are given significant discretion in using their time and Paid Time Off days. This privilege should not be abused. Associates should not be out of the office frequently. Frequent tardiness or absenteeism is grounds for immediate termination.
Any Associate Attorney who is unable to come to work because of sickness should call Angela McIlveen as soon as possible. If the Associate has court or appointments with clients it is the Associate's responsibility to make sure that the court calendar is covered by another attorney and that the client appointments have been rescheduled.
An Associate Attorney who misses a court date is subject to immediate termination.
Vacations should be planned as far in advance as possible. Attorneys should consider holidays and court calendars when planning vacation leave. If all other attorneys have designated that they will be out of office the final attorney wishing to take that day cannot have it. Attorneys should plan their calendars far in advance to avoid conflicts.
All courts, clients and opposing counsel/parties should be notified in accordance with the local rules when attorneys plan to take secured leave. Failure to file the appropriate secured leave form with the court may result in the attorney being unable to take leave enough if travel arrangements have been made.[/vc_column_text][title]Military and Jury Duty Leave[/title][vc_column_text]MILITARY LEAVE
The Firm will observe and comply with all state and federal laws and regulations relating to military service and leave. Employees, however, must immediately notify the Firm in writing of any need they have for military leave to allow the Firm time to prepare for the employee's absence. Please speak with Angela McIlveen if you have any questions concerning the specific application of such laws and regulations or questions concerning your obligations.
JURY DUTY & COURT APPEARANCES
The Firm encourages employees to fulfill their civic responsibilities by performing jury duty when required. A copy of the jury duty summons should be given to Angela McIlveen as soon as possible so that arrangements can be made to accommodate the absence. Employees will receive full pay for up to 8 hours of time spent on active jury duty and will be expected to report for work whenever the court schedule permits. Accrued PTO can be used in order to receive compensation for any unpaid jury duty.
The Firm also will grant leave to appear as a witness if an employee is subpoenaed to do so. If an employee is subpoenaed by the Firm, he or she will receive full pay for the entire period of witness duty at the Firm's sole discretion. If someone other than the Firm subpoenas the employee, a maximum of 8 hours paid leave will be given to appear in court as a witness. Accrued PTO can be used in order to receive compensation for any period of absence for witness duty that would otherwise be unpaid. The subpoena must be shown to Angela McIlveen immediately upon receipt so that arrangements can be made to accommodate the absence. Employees will be expected to report for work whenever the court schedule permits.[/vc_column_text][/vc_column][/vc_row]